Description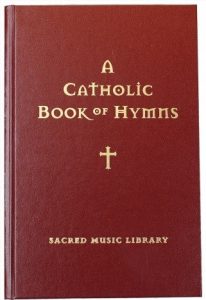 Nearly 300 classic, time-honored hymns your choir and congregation will love singing!
The hymn selections are musical, singable, truly sacred, theologically solid, and–for the most part–familiar, although you will also find some that are new to you. All 295 hymns use traditional hymn texts, not modern adaptations. This hymnal has been granted a nihil obstat and imprimatur, which mean the book is free from doctrinal error.
A Catholic Book of Hymns includes all you need for reverent, beautiful celebrations from Advent through Easter and the whole of ordinary time.
Download a list of all hymns here. Download sample pages here: SAMPLE PAGES
The 6- by 9-inch book fits easily into hymnbook racks on pews. This handsome book features Smyth-sewn binding, title stamped in gold foil, and a rich red simulated-leather cover that's waterproof and extremely durable.
No permission is required to publish these hymns in bulletins or music handouts or to use them for Masses that are videotaped or live-streamed.
Published by Sacred Music Library, Frog Music Press.